Life has slowed to a crawl. It's been a few days since I've popped open my laptop. In those days, we drove from Santa Clara, California to Hudsonville, Michigan for a brief respite, then packed up our clothes and our puppy for another road trip up to Agate Harbor, Michigan. Our family has a cottage on a small peninsula directly on Lake Superior in the extreme Upper Peninsula, where only bears and snowmobilers dwell.
As I write this, the sun has set over the water and an innumerable amount of dragonflies are flitting about, gobbling up mosquitoes or blackflies, or whatever it is that keeps their tummies full. Last night's sunset was amazing, perhaps because we haven't seen a good one since our move to California. It was always blocked by mountains or clouds. Here on Lake Superior, the entire sky is illuminated by the setting sun on a clear night from horizon to horizon. As it lowers, you can see the entire spectrum of light played out from west to east. It's like a rainbow fat enough to cover the dome of the sky.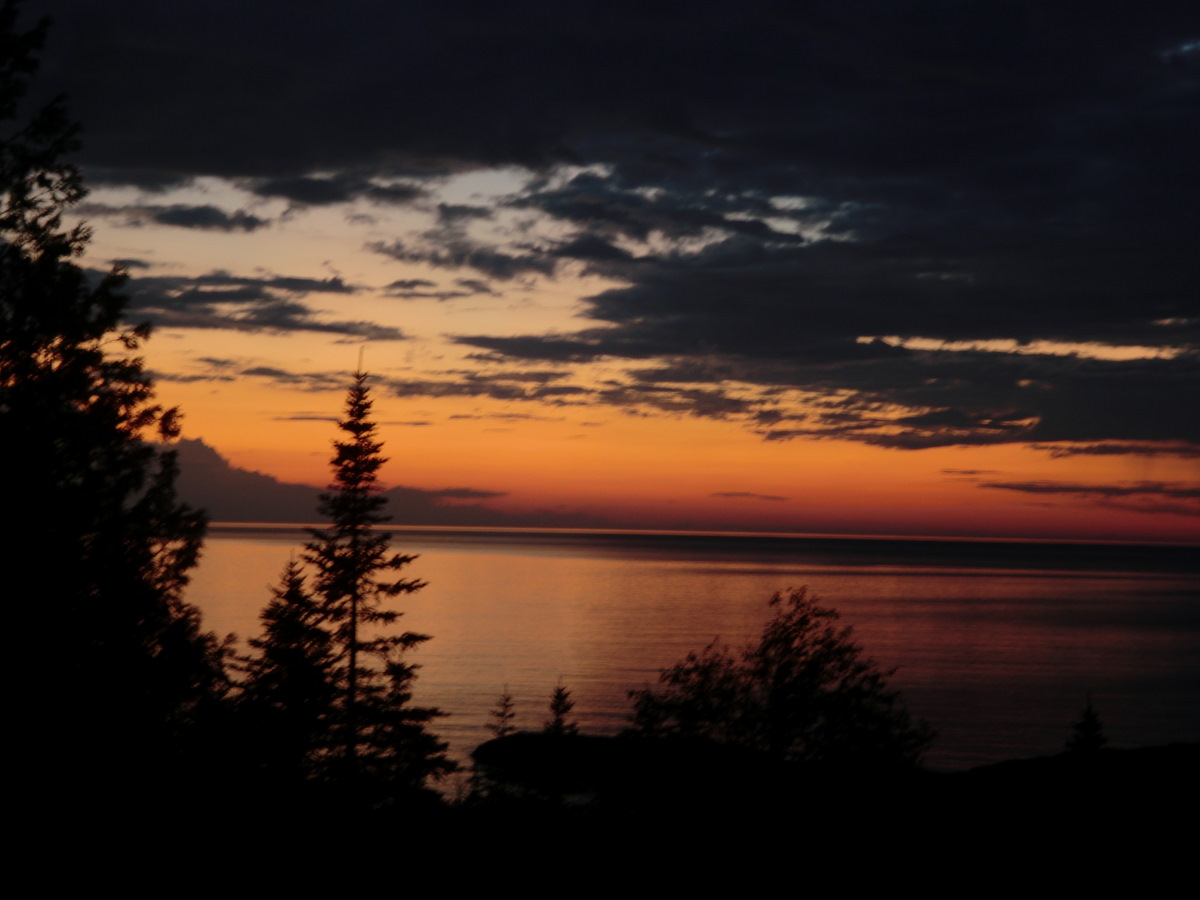 It takes a day's worth of driving to get to the cottage, but once we're here, it's always worth it. Today was spent sleeping and reading on the deck overlooking the waves on the lake, exploring the ancient volcanic rocks spilling into the cold waters, and taking our dog for her first swim in Lake Superior.
Actually, it was her first real swim anywhere. Jen has always had it in her mind that Piper wouldn't be a good swimmer because she's not a Lab, which is a breed apparently made for swimming. Piper proved her wrong, and we couldn't stop laughing the entire time. There's a calm bay on the other side of the peninsula where we went to go swimming. Coincidentally, the water here in Lake Superior was vastly warmer and more tolerable than the ocean near Santa Cruz we tried swimming in over the summer. Go figure. Anyways, Piper got in the water and bounced around for a little as we started wading out, adjusting ourselves to the temperature. It surprised her when she realized she was no longer walking, but instead floating, and her limbs flailed out spastically for a short bit before she abruptly realized how awesome it was to float in the water. She then proceeded to swim in gradually widening circles as she realized the extent of her discovery. Before we knew it, she was chugging away, some twenty yards out, with only her head visible along with her cropped tail she was using as a wild little rudder.
It took some time before mastering her vessel. We swam with her and she chased us in the water with a fierce look of determination in her little puppy eyes, every once in a while biting a mouthful of water. She ended up being pretty fast in the water and, once she started after you, she'd be resolved to catch up, at which point she'd usually keep paddling with her paws and inadvertently scratching your arms and chest as she kept afloat. She had no problem steering and taking turns chasing either Jen or me, and we got tired before she did. It's great to have her back again.
We're up here in the wilderness for a week of unwinding. California was amazing and exhausting. When we started out, we didn't really know what to expect. We had a list of places we wanted to visit up front, and those we tackled with great vigor. We anticipated that we would have more free time than we actually did. It turned out that we were both working full time jobs the entire three months we were out west. She, being a travel nurse, was not allotted any vacation time during those three months. Jen's schedule was to work three twelve hour nights, on various days, per week. While we were used to this schedule back home in her old job, it made things a little more difficult to fit in everything we wanted, but we made due.
All our exploring was tucked into evenings and weekends. Some weekends, she had to work, and on a few of those, I was able to shift a few days in order to get my two weekend days in the middle of the week, so that we'd both work over the weekend but have a couple days off in the middle. But it never worked out to more than two days off, which meant that all our exploring had to be squeezed into that timeframe. For the first month and a half we were out here, we crammed in as much as we could, taking weekend trips to Napa Valley, Yosemite, Big Sur, San Francisco, and so on. We fit an amazing amount into those tiny weekends, but it soon wore us out, especially when we had to drive several hours to and from a destination. I'd always be up early in the morning the next day, overloading on caffeine to try and bring my neurons up to normal speed so I could at least try to be productive at work, and she'd be jolted back into the NICU, saving lives and being a much more noble human than I could ever hope to be.
We had three sets of visitors to our tiny apartment in California during the last half of our adventure. It was a good way for us to highlight and show off some of our favorite places in the area. It was sometimes a bit tricky for me to work in our two room apartment when friends and family were sleeping in my office, but after a cheap chair was purchased from IKEA, I managed to carve out a working area in the bedroom which suited well enough for the time it was needed. Only when I needed to Skype or call back home to the office was this ever a challenge, in that I needed to deftly and quietly sneak out of the bedroom and hurdle over our slumbering friends and their luggage so I could take the call out in the crisp morning air in the hallway outside our apartment. It wasn't so bad.
There were times during the trip where we felt we had had enough, and talked more about our home and the dog we left than about all the fun things to do in the Bay Area. This, we usually battled with bottles of wine and amazing food from one of the nearby Indian, Greek, Thai, German, Sushi, Chinese, or Mexican restaurants which were all within walking distance. I guess it's only normal to get a little homesick after being away for a few months, even though we were in such an amazing location.
We've talked a lot about whether we'd want to go out on another travel nursing assignment, and where our next ideal location would be. This one turned out to be pure gold. There was so much to do and to be explored in the San Francisco Bay Area, that we were never bored. We can't seem to think of another area that would offer so much, and we haven't seen any really compelling travel jobs posted. The most interesting ones to date, besides all the California ones, are either in Alaska, Missoula, Montana, or Honolulu.
Alaska just seems too far, and would probably only be good in or around summertime. Montana and Honolulu sound good any time of year, but not so compelling that we'd want to spend three months working full time there. After this California assignment, we've got a better idea of what life is like during a travel assignment. So far, I just can't see us doing another assignment any time soon. A short vacation to Alaska, Montana, or Hawaii sounds great, but to be stuffed into a tiny apartment for that duration, with no real vacation time besides the normal weekends, doesn't sound so appealing.
We're happy to have made it home from California. Our house now seems like a mansion compared to our tiny apartment out west, and everything seems so green. It's funny how, even though the area we were in was supposed to have some great farmland, it seemed like everything was dead. The mountains to the west had lots of green trees, but in the valley and to the east, all the grass on all the hills was dead and brown, nearly yellow, having been cooked beyond well done. They say the grass gets fried in the springtime, and stays cooked all summer long. On the drive home, we went through a few deserts and wastelands, and miles upon miles of treeless farmland as we ventured through Nebraska and into Iowa. It wasn't until we got back into Michigan that I realized how lush and green everything was as we were driving through the tunnels of trees surrounding the freeways. It's good to be home.
So now, we're enjoying some much needed relaxation in the wilderness of Michigan's Upper Peninsula. We're back with our dog, who hasn't forgotten us and whose excitement upon seeing and smelling us again for the first time can only be rivaled by her excitement at a thrown stick.
Today, as we sat on the deck, we saw three deer walking near the water as they stopped and stared at us. We made eye contact and our dog barked. Later, my wife jolted me awake to point out a bald eagle flying lazily overhead. Tomorrow will be another lazy day out on the deck by the lake with some wine and a good book, and perhaps another swim with the dog in the bay. This time we'll bring a camera.