Holy Flying Christ! It's ArtPrize!
It's hard not to get a little cynical about the annual ArtPrize competition in Grand Rapids. The event name itself gives me a twinge of agony every time I consider it. ArtPrize. It cuts right to the point in an almost patronizing way. In case we find ourselves walking around downtown and forget why we're seeing all sorts of art, it's because there's a prize involved. It's like the teacher trying to dumb down a concept for the lowest common denominator in class.
Don't get me wrong. I usually have a lot of fun walking around and taking in all the different works of art around the city. The key is that you have to get off the beaten path. It's a competition in which anyone with a text-ready phone can be a judge. The result is that the usual high traffic areas are often filled with large and memorable gimmicky pieces that, while often fun to look at, aren't really the most artsy pieces. They often lack any real depth and are only there to collect votes, like last year's giant steampunk pig (which was awesome, by the way) or this year's guys painted bronze acting like statues (blech).
In the interest of full disclosure, I know absolutely nothing about art. That much should already be obvious.
Which leads me to my rant about this year's top ten. There were three in particular that made me facepalm when I found out they were finalists. There were a couple bronze-painted construction workers who, for the most part, stood still except for the occasional surprise movement that you could see in any tourist-ridden city in the world, as well as a wax-museum-grade sculpture of Grand Rapids' only claim to fame, America's first accidental president, A Narcissistic Gerald R. Ford checking out his own bust.
But those two are merely tasteless hors d'oeuvres compared to this year's winner. That's right, I'm talking about Hover-Jesus. Er, I mean, Crucifixion, by Mia Tavonatti. Here he is, in all his hackneyed glory, soaring through the clouds on his trusty airship made of wooden beams and rusty nails: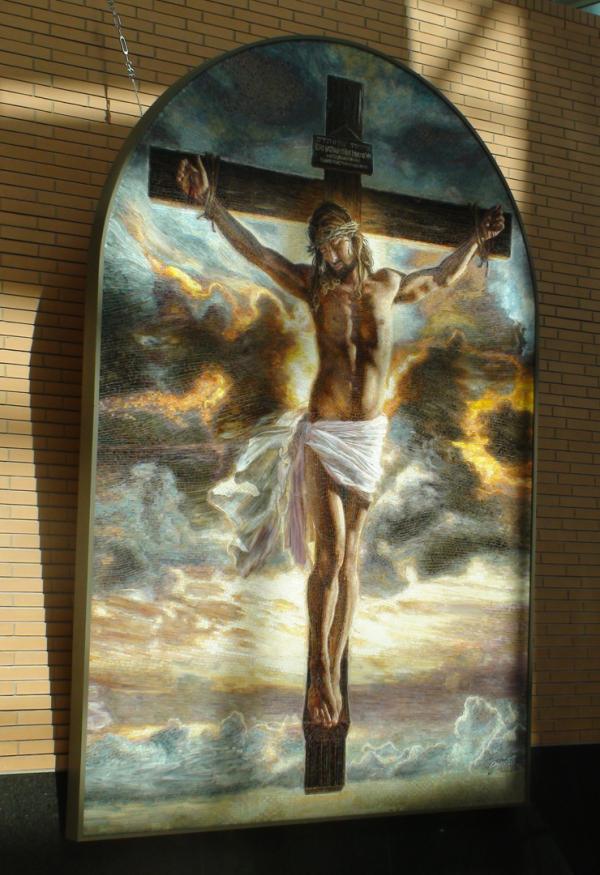 This thing is made of tiny shards of stained glass that she individually selected and carved. There are even little glass circles for his nipples. It must have taken an awful lot of time, and as our previous ArtPrize winners have shown, that's what we Grand Rapidsians adore. Our votes tend to appreciate hard work over content. She had an entry last year using the same medium and won second place. The only thing missing was Jesus. That correction netted her $250,000 this year. Congratulations, Mia, you gamed the system. I only wish I had thought of it first.
Which is why I'm announcing my entry for next year's competition. I've learned the ArtPrize game. Years one and two showed me that whatever I make, it has to be big. Last year's entry also showed me that you don't even have to create art; you can get by with just a pencil, a wall of paper, a projector, and some photograph you find in granddaddy's shoebox. Seriously, the dude who won last year just used a pencil and a projector to magnify an old military photograph from 1921. He's like a human laser-jet printer. It was genius.
All I need to do is combine that with what I've learned about Jesus to make my vision complete. I submit to you my proposal for a thirty foot tall, pencil-drawn reproduction of this masterpiece I found wandering around the internet: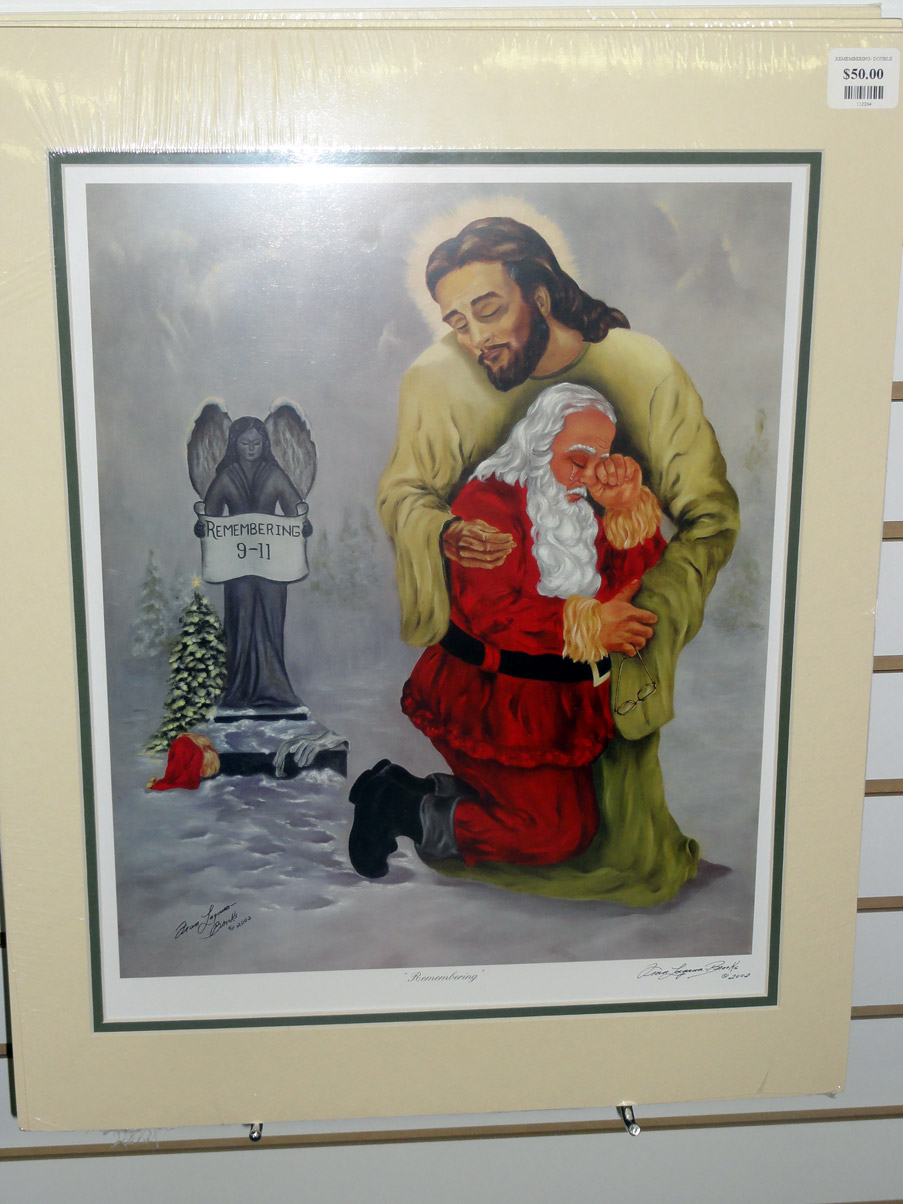 I'll have some stiff competition, but my art will be loved. Next year, vote for me. And Jesus. And Santa. And 9⁄11. To vote otherwise would be unAmerican.
Actually, don't vote for it. Vote for what you like, but for Hover-Jesus' sake, just make sure that the next time you visit ArtPrize, you go off the beaten path. There is a lot of good stuff out there if you take the time to look. Just try and avoid all the gimmicky kitsch so prevalent in the open spaces.